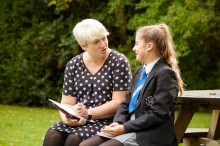 Vacancies
Moorlands Learning Trust's (MLT) vision is to enable all our students to succeed and excel, equipped with the knowledge and skills to make a positive difference not only to their own lives, but also to the lives of others. Put simply, our goal is to enable every student within our care, from whatever background and starting point, to receive an exceptional education and achieve their very best.
We believe the key to achieving this is partnership working. MLT partner schools share the same wider moral purpose: to play a key role in the development of our region and its future generations. MLT partner schools cater for students from all cohorts and demographic backgrounds, in order to ensure that individual context does not affect a student's life chances.
We want all staff at MLT schools to feel valued and to thrive professionally; we want parents and the wider community to be proud that their children attend an MLT school, secure in the knowledge that their child is well cared for and will succeed and achieve their very best as a result.
Great emphasis is placed on high standards at MLT, where our teachers are committed to providing learning which is engaging and allows students to make progress in every lesson, every day.  We are determined to provide first class comprehensive education to the communities we serve.  These are exciting times at MLT as the Trust looks to grow and we would be delighted to hear from you if you would like to be part of this exciting journey.
At MLT we are aspirational for every student within the Trust and are committed to achieving success and inspiring others to do so too. We believe in investing in the professional and career development of our staff to keep ourselves at the cutting edge of educational developments, where staff wellbeing is also a key priority for us and our schools. 
Please see below for our current vacancies.  After reviewing the information provided, we very much hope that you decide to apply. 
To apply, click on the 'Apply Now' button at the top or bottom of the relevant vacancy. Please note we do not accept CVs. 
To help you with this, please follow the specific requirements as detailed in the job description and ensure you have the following information to hand:
NI number
DfE number for teachers
Full employment history, with dates of each employment
Details of relevant qualifications and training
Initially you will be asked for contact details, once you have saved these you will receive an e-mail confirmation from vacancy-filler.co.uk, who are the recruitment service provider for Moorlands Learning Trust; this will contain a link to your form (if the e-mail does not appear please check your junk mail folder). If you have any technical difficulties when filling in the application form, please call 0844 800 9376 or alternatively you can use 'Live Chat' on the application form to get immediate assistance from Vacancy Filler's support team.  The link to our Trust Workforce Privacy Notice can be found here.
Shortlisting will take place shortly after the closing date. Please therefore ensure that the e-mail address you give us is correct and viewed regularly.  Due to the number of applicants, we receive for each post, we may not be able to comment on those applications which have not been shortlisted. Please be advised that should you be invited to interview we are unable to reimburse travel expenses.
Moorlands Learning Trust is an equal opportunities employer and is committed to the protection and safeguarding of children and young people in our recruitment procedures and in all our work across and beyond the Trust.  The Trust adheres to statutory guidelines in respect to safer recruitment including social media checks on all shortlisted candidates.  All persons employed by the Trust, in any capacity, will undergo an enhanced Disclosure and Barring Service (DBS) check, and confirmation of employment is subject to a successful outcome.  All teaching and support staff members recruited by the Trust have their eligibility to teach/work in our Trust schools checked with the DfE.
Search by School
All Vacancies